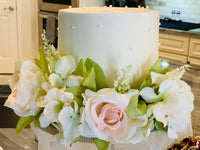 Specialty Cakes
Not only does Debi's Cheesecakes make delicious cheesecakes, we also offer specialty cakes & cupcakes. Cakes & cupcakes are made to order in just about any flavor combination you can dream up! Our cakes & cupcakes are priced by flavor - silk flower and/or themed add on products to our cakes is extra. Contact Debi's Cheesecakes if you would like to make a custom cake or cupcake order.  You can also place a Specialty Cake order on our website.
Make a cake order
Testimonials
I ordered a Blueberry Cheesecake from Debi's Cheesecakes to take with me out of town for Easter. Y'all I just don't have all the words to tell you how great the cheesecake was!  It was delivered on Thursday frozen, traveled 5 hours in a car, then sat in the fridge until Easter.  TBH I was concerned about the quality of what was inside the box after traveling and then sitting for a few days.  I shouldn't have been concerned.  It was beautiful, the taste was fresh and fabulous and it was a huge success as Easter dessert.  If you've been wondering about her Cheesecakes, I say go for it!  You'll be glad you did. Below is the cheesecake right before it was served!  Oh!! PS even the crust had a great flavor.

Annette Sansone Worthen
OMG I ordered a peanut butter cheesecake from Debi's Cheesecakes as a part of a fundraiser and can I just say it was absolutely delicious!! My intent was just to support the fundraiser I never expected it to be so good.

Teice Dehl Haga
Debi is the kindest lady and so easy to work with. She delivered her delicious Lemon Cheesecake to a friend and it's beautiful! If you are looking for a scrumptious cake - shop locally and try this small business.

Sandy Boyd-Pierson
I ordered Debi's Apple Caramel Cheesecake for a Christmas Eve gathering and it was a total hit! Debi was an absolute pleasure to work with an even delivered the cake to my home on Christmas Eve Day.  The cheesecake was simply beautiful and reeived rave reviews from everyone.  This was my first order but won't be my last!

Tanya Burney Atkinson
We ordered a Lemon Cheesecake for Easter let me just say it was a "10".  We all love lemon and it was made to perfection.  I'll be ordering again for sure.  This was the best cheesecake I have had.  Thanks Debi you rocked it! God Bless.

Eve Waters
Amazing cheesecakes and cakes. I want to try them all. Very professional, kind and delicious desserts! Another delicious dessert from Debi tonight! Reese's Chocolate Peanut Butter Cake with Chocolate Ganache and Peanut Butter Buttercream Frosting!

Deena Knight-Love
Debi made me a White Chocolate Raspberry Cheesecake. To say it was good is an understatement.  That's my favorite dessert ever and she exceeded my expectations.  Thank you Debi. May have been my first but won't be my last!

Kathy Butts
We threw a surprise birthday party for my husband this weekend and I ordered cupcakes from Debi's Cheesecakes for the first time and asked to have them delivered.  I couldn't decide which flavor to go with,  so I mixed it up and ordered banana pudding cream, orange cheesecake creamsicle,  reese's peanut butter and carrot cupcake.  WHAT A HIT!  Everyone raved about these things. We couldn't get a consensus on which one was "the best", but my advice is this: don't miss out on the banana pudding and orange creamsicle.  Your tastebuds will love you forever!  A great experience with a reliable,  communicative, friendly and professional owner.  I really can't say enough great things about Debi's Cheesecakes.  Find out for yourself....you won't be disappointed!  I will definitely be coming back to try some of the cheesecakes. 

Marlene Abbate
Lemon Blueberry Cheesecake- I just got a phone call from Martha, and everyone there absolutely loves the cheesecake! They all had a slice after lunch, and were just going on and on about how delicious it is! And what a beautiful job you do!

The lemon/blueberry combination was the absolute perfect choice for Martha this year. Next year I might have to go with the pineapple upside down cheesecake.

Thank you again!!!!!

Susan Woitovich
Hours:
Pick-up:
Tuesday, Thursday 9 am - 6 pm
Wednesday, Friday 1 pm - 6 pm
Delivery:
Tuesday, Thursday 9 am - 6 pm
Wednesday, Friday 1 pm - 6 pm
SPECIALS
WELCOME TO DEBI'S CHEESECAKES - PLEASE USE CODE - NEWWEB10 AT CHECKOUT TO RECEIVE 10% OFF YOUR FIRST TIME ORDER.